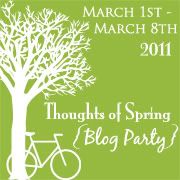 Hello friends and visitors! Today I am participating in the Thoughts of Spring Blog Party hosted by Lynnette at
Dancing Barefoot on Weathered Ground
. I thought it would be a fun way to meet some other bloggers while giving my faithful reader(s) some further glimpses into my personality.
To those who are visiting, I am Manda, wife of Don, full-time homemaker and homeschooling mom. Don works from home, so our little family is together pretty much all the time. We welcome as many children as God wants to bless us with, which so far has been Donny (6), Hayden (4), Lydia (she'll be 2 in June), and (as I wordlessly announced in my
last post
) one on the way! We are expecting Baby#4 in October, and hoping to relocate before that. Don and I are lifelong New Englanders who are ready to get away from the snow and live in an area where we can afford to house our growing family. I have not had much time for blogging lately, especially now that we are getting ready to sell our home, but I love sharing our little adventures and life lessons through writing. My blog is named after one of my favorite verses, Isaiah 40:11, which reminds me that in every step of this parenting journey, my God will gently guide me, and that no matter how often I fail, He holds me close to His heart - what a comforting promise!
Here in New England, the closest thing we have to spring right now are the ugly patches of pine needles showing between the dirty snow piles. We got a record amount of snow this year, so despite some "warm" (a.k.a. above freezing) days, there are still ample snowbanks dotting the brownish landscape. Hopefully in a few weeks, we will see some flowers peeking through (and Don and I will plenty of work to do making our messy yard presentable for the real estate market). In the meantime, here are some of the questions from Lynnette's suggested interview to help you get to know me a little better. Thanks for reading!
How would people describe your personality? (If they could only use ONE word.) Are they right?
I guess it would depend who is describing me. My husband says, "meticulous." I think that's an accurate description, but not the top word I'd choose.
What are your favorite animals?
Tigers, tortoises, pandas, cows, horses, and the fascinating duck-billed platypus
Movies: Action, Drama, Romantic Comedy, Documentary, Comedy? What are your favorite genres?
I'm not a big movie watcher. I like romantic comedies and some documentaries.
Books: Fiction, Non-Fiction, Romance, Biographies, True Stories, Self-Help, Devotional/Study? What are your favorite types of reading material?
I never read fiction, even though I was a huge reader growing up. When I read now, it's for my own education - books about parenting, marriage, Christian living, the Bible, or how to do something (gardening, homebuying, etc.). I also love reading
Above Rubies magazine
- it is such a great encouragement for mothers and homemakers!

Music: Funk, Rock, Country, Jazz, Classical, Film Score, Blues, Classic Rock, Crooner, Alternative, Heavy Metal, Techno? What are your favorite types?
Music affects my mood a lot, so normally I only listen to praise music. I need lyrics that help me focus on God.
What is your comfort food/drink?
In winter, tea with milk and honey to drink; homemade cookies or pie to eat. In summer, I much prefer ice cream! Hot buttered toast is always nice, too - especially for slightly queasy pregnant bellies.
If money wasn't a factor, what stores would you shop in?
I would grocery shop at Whole Foods, buy household things from Target, and order clothing and other special items from moms who make them. I would love to have custom made clothes!
What is your greatest fear or strange phobia?
I think that drugs - whether illegal or prescription - and all their potential side effects are pretty scary.
Be brave – tell us something very random and weird about yourself.
I used cloth diapers with all my babies and love them. With Lydia, I also did infant potty training (or elimination communication), which means that I have been putting her on the potty since she was 2 weeks old. If I could be just a little more consistent, I think she'd be fully potty trained by now at 21 months. It definitely makes more sense to me now than training a baby to go in her diaper and then expecting her to magically want to stay dry once she reaches a certain age.
If you inherited a million dollars, what is the first thing you would do with your money?
Don and I would have to decide together, but we would probably buy a house we love and can live in forever, help our families, and add to our family through adoption. First, though, we would put most of it into savings so that we could live off the interest.
Name one weakness of yours (confession is good for the soul).
I set all my clocks 10 minutes fast, but I am still late a lot. At least now I am three minutes late instead of thirteen minutes late, but still, I wish I could be more punctual.
If you could live anywhere at all (and take all your loved ones with you), where would you go?
Arizona! Don and I both love the climate, politics, and cost of living in the Phoenix area, which is why we are looking to move there. We can't take ALL of our loved ones, but I think many of them will be joining us once we get settled. Our second choice would be Texas, somewhere outside Dallas/Fort Worth. Arizona won out because of the complete lack of humidity, tree-borne allergens, and time zone. Speaking of which, Arizona doesn't do Daylight Sayings Time, which I think is awesome!
Strange Talent? Can you juggle basketballs, put your legs behind your head or perform some other strange feat?
I can curl the corners of my tongue in so it looks like a flower. And no, I will not be demonstrating this talent for anyone other than my lucky family.
What's something you consider yourself to be good at? (Don't worry, it's not bragging, it's acknowledging a God given gift).
Writing and organizing things

Do you have a strong desire to do something you've never done? What is it?
Moving faraway to a warm, desert-like state is high on the list for the immediate future, but in a few years, Don and I would love to adopt.
What is one of your favorite things to catch a whiff of?
I love the smell of most babies' heads.
When you leave a social gathering, do you wish: You would have talked more or You would have talked less?
I guess I wish I had talked more. Really, I usually wish I had said something specifically kind/funny/conversational that occurred to me after the gathering but not during.
Are you a hopeless romantic?
No, my dear but very un-romantic husband drove that tendency out of me several years ago. ;)
What is your greatest accomplishment?
Staying married to my hopelessly unromantic husband for seven years and raising a family with him - which is really God's accomplishment, not mine!
Thanks for stopping by! If you haven't already, feel free to join in with your own interesting quirks and happy thoughts of spring!